Body Kitchen Unwind Nightcap
What's the number one health habit to improve energy, metabolism, immunity, and just about every complaint you may have: get better sleep. It sounds simple, but so many of us have a hard time winding down and achieving consistent, quality sleep. Magnesium can help. 
Magnesium is an important mineral that most of us aren't getting enough of. It's critical for activating the parasympathetic nervous system required for sleep, relaxation, stress management, and tension reduction.
This simple nightcap is designed with sleep support in mind. You'll get dimagnesium malate and magnesium bisglycinate, both highly absorbable and bioavailable forms of magnesium from Body Kitchen's Unwind powder. In addition, tart cherries, are a natural source of melatonin that help you to feel drowsy, and chamomile is a classic herb for relaxation and sleep. 
Make this nightcap your evening ritual!
Prep time: 5 minutes (plus steeping time)
Makes: 1 serving
Recipe Ingredients:
1 teabag chamomile tea
4 ounces water, boiling
1 scoop Body Kitchen Unwind
1 ounce tart cherry juice
2 ounces sparkling mineral water
Ice
1 lime wedge
Recipe Directions:
Brew chamomile tea ahead of time by topping the chamomile tea with boiling water. Steep for at least 10 minutes and transfer to the fridge to cool for use later.
To prepare your nightcap, add the chilled chamomile tea, Unwind powder, and tart cherry juice to a cocktail glass. Stir to combine.
Top with sparkling mineral water and add a few ice cubes. Squeeze the lime into the drink and add the wedge. Sip to unwind from the day and promote deep sleep at night.
Nutrition facts (1 serving): 20 calories, 0 grams protein, 0 grams fat, 5 grams carbohydrate, 0 grams fiber
---
TESTIMONIALS
"I prefer powders over capsules for better results. This powder has a decent taste and mixes well with any liquids. Plus I very pleased with the results, thank you!" - Dennis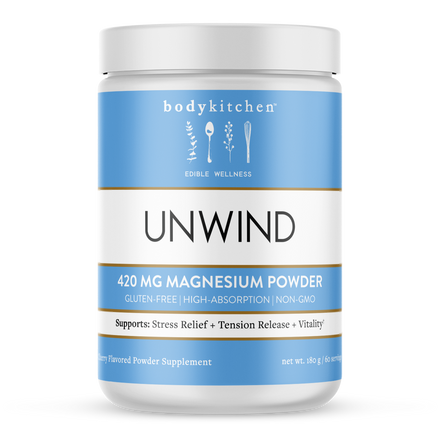 Magnesium Powder 60 Servings
$19.95
Shop Now
---
FEATURED